prague
9:09 AM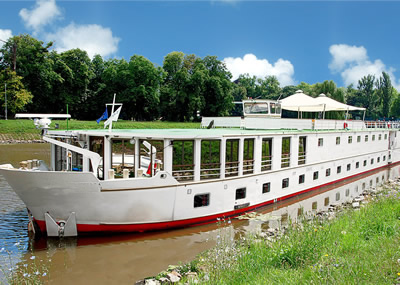 Botel Description
The Florentina Hotel is a newly refurbished ship, anchored on the river in the heart of Prague, just 5 minutes walk from the Old Town Square and Charles Bridge.
Guests will enjoy fine views of Prague Castle and the other attractions from the riverside cabins and the public decks.
MS Florentina was built in 1980, then completely renovated in 2008. On board are 54 comfortable rooms, a restaurant, a bar/cafe and a spacious sun deck.
All the sights and attractions of the city are within easy walking distance.
Buffet breakfast is included in the price.
Room Facilities
Modern en-suite shower & WC, radio and television.
All rooms aboard the MS Florentina have air conditioning.
Restaurants & Bars
The ship's restaurant serves traditional Czech and International cuisine. There is also a pleasant bar/cafe and a sun deck, a fine setting for an afternoon or evening drink on fair weather days.
There are also many restaurants and bars located all around the hotel in the Old Town (see nearby places).
Reception & Security
The hotel has a 24 hour reception desk